Creating a vegan menu can sound like quite the challenge, especially if it isn't a way of cooking that you're used to. Thankfully, over the last few years, creating vegan dishes has become much easier, with alternatives to foods like cream, butter, yoghurt, and even meat, becoming readily available – and they're actually pretty good too!
According to The Vegan Society, the number of vegans in the UK has increased by 445,428 people (40%) over the past 12 months, so if you're looking for a Christmas menu that appeals to everyone, having vegan alternatives amongst the festive staples is a winning combination.
These tried and tested vegan recipes are perfect for Christmas. It's amazing how much flavour you can create just by thinking outside of the box – the mushroom and walnut pate is a winner even with meat eaters, and the rich and creamy chocolate avocado mousse is a delightful way to finish any meal.
MUSHROOM AND WALNUT PATE
Ingredients: Serve with crackers or bread
250g chestnut mushrooms
1 clove of crushed garlic
250g puy lentils
1 small onion finely chopped
40g cooked beetroot
80g walnuts
½ tbsp miso paste
1 tbsp soy sauce
1 tsp fresh thyme, chopped
1 tsp fresh rosemary, chopped
Salt/pepper
To top:
100g butter
Peppercorns
Fresh thyme
Method:
Slice your mushrooms and fry in a pan with olive oil, after a few minutes, add the garlic and saute until cooked.
Once cool enough, add to your blender along with the rest of the ingredients and blend – you can leave a handful of walnuts aside and add towards the end, if you'd like a slightly more chunky texture.
Season to taste.
Place the pate into ramekins, and then top with melted butter, a few peppercorns and sprigs of thyme.
Leave in the fridge to set.
Serve with crackers / bread / toast.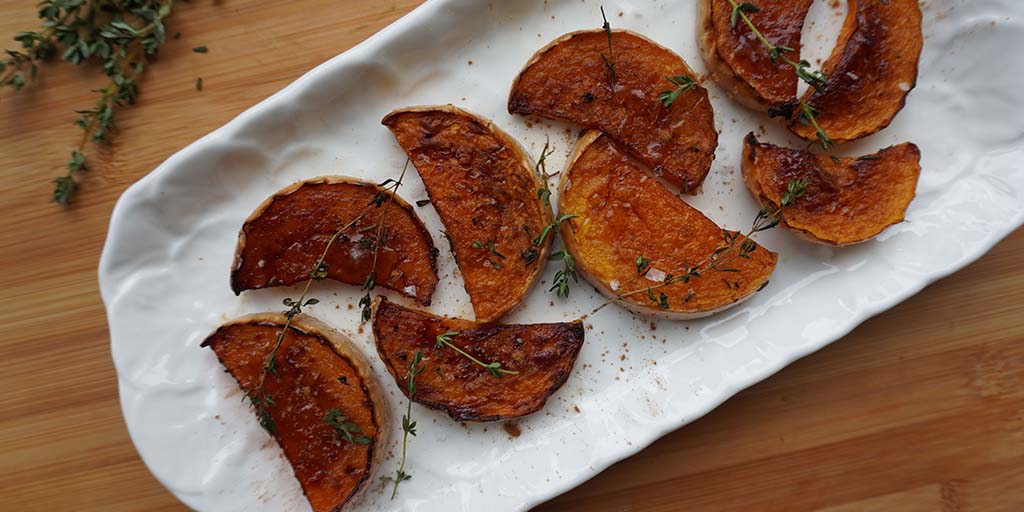 ROASTED BUTTERNUT SQUASH WITH HONEY, THYME & CINNAMON
Ingredients:
500g butternut squash (or pumpkin)
1 tbsp honey
1 tbsp olive oil
6-10 sprigs of fresh thyme
1 tsp cinnamon
Salt/pepper
Method:
Dice your butternut squash or pumpkin into even chunks, then add to a roasting pan with the honey, olive oil, cinnamon, thyme and salt and pepper.
Roast for 25 minutes at 180 degrees or until cooked with a slightly sticky glaze.
If serving as a side dish, finish with a little dusting of cinnamon, honey and fresh thyme.
NUT ROAST
Ingredients:
240g red kidney beans
250g puy lentils
4 cloves of garlic
1 small onion, finely chopped
2 carrots (roughly 80g), grated
80g dried cranberries
100g chestnuts, cooked
30g pumpkin seeds
50g pecans
50g walnuts
1 tbsp tomato puree
1 tsp smoked paprika
¼ tsp ground cloves
¼ tsp cinnamon
3 tbsp oats
2 tbsp soy sauce
Salt/pepper
Method:
In a pan, saute your onion and garlic.
Either chop your carrots into small chunks or place in a blender and pulse then remove.
Now, to the blender, place half of the nuts, half of the lentils, and half of the kidney beans, along with the spices, oats, soy sauce, and tomato puree.
Once a paste has formed (not too smooth), add in the rest of the nuts, pulses, and onion and garlic mixture and pulse until you have a good consistency, but still with some chunks.
Fold through the carrots and cranberries.
Taste your mixture, adjust the seasoning.
If too wet, add more oats, too dry, add a touch of water.
Bake for 40 minutes or until a crust has formed on top.
Serve in slices, with a rich gravy.
POLENTA PARSNIPS
Ingredients:
500g parsnips
1 tbsp oil
Salt/pepper
4 tbsp polenta
Method:
Peel your parsnips and cut into equal chunks.
Place into a pan of cold water and bring to the boil. Simmer for 5 minutes until just soft then drain and set aside.
In a bowl, place the polenta.
In a separate bowl, cover your parsnips in olive oil and salt and pepper, coat well.
One by one, add them to the polenta, coating generously.
Place the coated parsnips on an oiled tray and roast 25-30 mins on 180 degrees or until lightly brown and crunchy.
CHOCOLATE ORANGE AVOCADO MOUSSE
Ingredients: Makes 3-4, portions can be small as it's quite rich
2 ripe avocados
80g of 85% dark chocolate (you could use 70% but adjust the honey to taste).
2 tbsp honey / agave etc.
½ tsp ground ginger
½ juice of an orange
½ zest of an orange
Pinch of salt
Method:
Melt the chocolate.
Add the avocado to a blender and blend until smooth.
Now add the melted chocolate, juice of half an orange, pinch of salt, ginger and honey (start with 1 tbsp first and adjust to taste). Blend.
Now add in the zest of half an orange and pulse.
Once happy with the texture and flavour, keep in the fridge until ready to serve.
When serving, top with orange zest and something crunchy like raw cocoa nibs or even toasted flaked almonds, alternatively whip up some vegan shortbreads to serve alongside it.