In our industry Christmas is a make or break for us, we know it's coming, we try to leave it to the last minute as we have other things that are more important don't we…wrong.
For the last 15 years, I have started to plan Christmas in January, yes it's true, as soon as New Year is over, business is quiet and a great time to think, this is how I do it.
What worked last year
Take the best dishes and recycle, if the sales on those dishes where strong keep them, your team will know them, they don't need to learn them again, you will have the spec and costings for the dishes that you just need to update.
And guess what, your customers won't remember them from last year. It's a winner half the menu is done!
The rest of the menu
Below, we share with you our selection – and some tempting recipe suggestions from our chefs:
Keep it simple, don't make the menu too big, don't make the menu too difficult for you and your team, the more moves on the plate, the more prep needed and the slower the team will be in getting it out.
Speak to your suppliers…ask them what lines they have for Christmas? Guess what they plan early too. A mix of great quality bought in items alongside homemade makes a great balance that is easy to control for cost and for your team.
The demographic of your customer's changes in the Christmas period – bigger tables, office parties, people still want great food, but the fun side is so important to them, and make sure the turkey offering is straight forward, you will be shifting a ton of it.
Your team
Knowledge is important, cook off the menu for the whole team so they can see it, taste it, understand it, take notes for the front of house teams to refer to and spec pictures for the kitchen team.
Brief them to what you want, where it comes from, how it's prepared, how we work as a team, I like to start the Christmas last week of November, the team then know the dishes before the busy times hit.
To sum up, the festive period is a fun time for the customers and it should be for us too. We are organised, we are ready, we have a plan and the team know the drill, the menu is easy so we can do big on numbers, make a few quid, then when January comes, let's do it again.

One last thing, don't spend time on making mince pies, most people just leave them.

---
Mushroom and Gruyere Tart
Ingredients (Yields 6)
320g Shortcrust pastry
350g Mushrooms, sliced
100g Mixed wild mushrooms
3 Garlic cloves, minced
4 Eggs
500ml Milk
10g Parsley, chopped
100g Gruyère, grated
200g Watercress
50ml Rapeseed oil
Method
Preheat the oven to 190°C/gas mark 5. Lightly grease a flan dish measuring approximately 10 inches
Roll out the pastry until it is big enough to cover your dish, and lay it gently into the dish. Press it into the corners and tear off any excess (don't trim the pastry too neatly as it will probably shrink as it cooks – just tear off any corners that are overhanging by a large amount)
Prick all over with a fork (or fill with baking beads if you have them), and blind bake for around 20 minutes, until golden brown
While the pastry cooks, prepare your filling. Heat the oil in a pan and cook the mushrooms and garlic over a medium heat for five minutes or so, until they have released their liquid. Season well
Lightly beat the eggs with the milk
When the pastry is golden brown, remove it from the oven
Pour over the egg mixture, and sprinkle with chopped parsley. Then add the sautéed mushrooms in an even layer, and top with the grated cheese
Return to the oven for a further 25 minutes, or until the cheese has melted and the egg has set
Vegan Sprout Pad Thai
Ingredients ( Yields 4)
250g Flat noodles
1 tbsp Soy sauce
1 tbsp Tamarind paste (or 2 limes juice)
2 tsp Palm sugar
2 tbsp vegetable oil
1 Garlic clove, thinly sliced
2 Spring onion, thinly sliced
1 Red chill, thinly sliced
200g Leftover Sprouts
100g Beansprouts
30g Salted peanuts
Lime wedges to serve
Method
First, put the noodles in a large heatproof bowl, cover in boiling water and leave for 10 mins. Drain and rinse with cold water, then set aside. In a bowl, mix the soy sauce or tamari, tamarind or lime juice and sugar.
Heat the oil in a large frying pan or wok, Fry the garlic, spring onions, chilli and the cooked or leftover sprouts for around 2 mins (to cook the sprouts from raw, boil for 8-10 mins until tender). Then, add the noodles and beansprouts and fry for 1 min more. Pour over the sauce and toss well, working quickly to coat all the vegetables and noodles. Once everything is heated through, season and divide between four bowls. Scatter with the nuts and serve with lime wedges to squeeze over
Christmas Mess
Ingredients ( Yield 4)
600ml Double yoghurt
400g Greek Yoghurt
500g Mixed frozen berries
40g Icing sugar
60g Lemon curd
30ml Cassis
1 pinch Cinnamon
8 Meringue nests
Method
In a small saucepan gently heat the frozen berries, icing sugar and cinnamon until the sugar has dissolved. Remove from the heat, stir in the cassis, if using, and set aside to cool completely.
Whip the double cream and Greek yogurt until just holding it's shape, ripple through the lemon curd. Break the meringue nests into a glass bowl, or 8 individual glasses. Spoon over half the cream, then half the berries. Repeat with the remaining cream and berries. Serve immediately.
Baked Christmas Alaska
Ingredients
450ml vanilla ice cream
200g Christmas pudding
1 8" Victoria sponge
4 measures brandy
4 egg whites
250g caster sugar
200ml stock syrup
50ml water
Method
Slice sponge horizontally into 3.
Add 3 measures of brandy to the stock syrup.
Place one of the sponge layers on a baking tray and brush over with some of the syrup.
Mix ice cream and Christmas pudding together and place in the centre of the sponge, leaving 1 cm around the outside.
Use the remaining sponge to cover the entire Christmas pudding ice cream. Brush with the remaining brandy syrup and place in the freezer.
Boil the water and sugar for 1 minute.
In a mixer, whisk the egg whites until at the 'ribbon' stage, then slowly pour in the dissolved sugar. Whisk until peaked.
Place the meringue in a piping bag and pipe over the Christmas Alaska, making a little hollow at the top.
Bake in a hot oven at 225°C (Gas 7) for 5 minutes until brown.
Warm the remaining brandy, pour into the hollow at the top of the baked Alaska and ignite with a match.
Christmas Pudding Truffles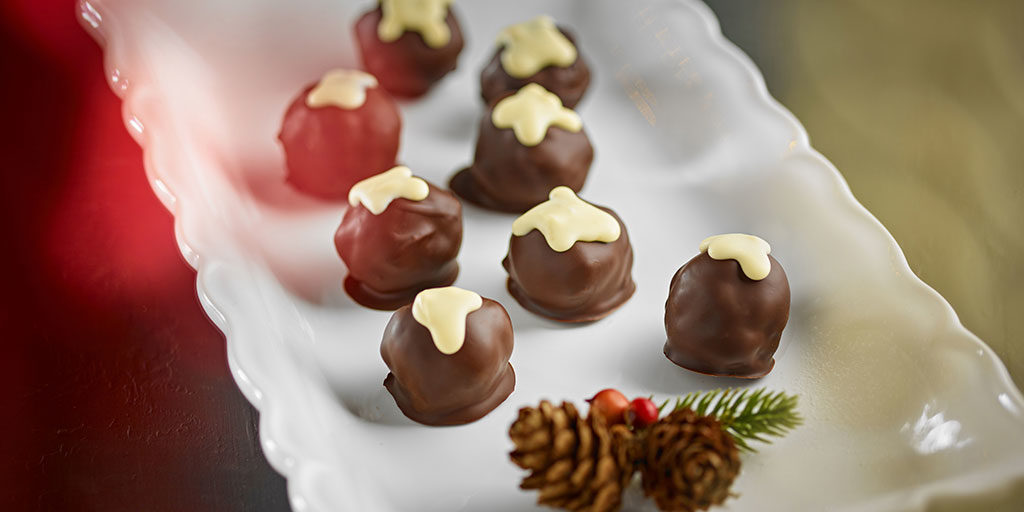 Ingredients
For the Truffles
650g Melted dark chocolate
100g Melted white chocolate

Method
Mix all wet ingredients, add to dry ingredients and mix well until dropping consistency, add a little more stout is needed to achieve the correct consistency.
Place into a greased pudding bowl & pack down, cover with grease proof paper, tie with string, then cover with foil & tie again.
Place in a steamer and simmer for 8 hours.
Cool.
Remove the pudding from the pudding bowl and place into a large metal bowl.
Breakdown the pudding in the bowl add 150g melted dark chocolate and mix until it is incorporated into the pudding and a thick mix is formed.
Form the mixture into 50g balls and freezer on a tray.
Once frozen dip the balls in the melted dark chocolate and place onto a tray to set.
Pipe on the white chocolate so it looks like snow.
Risotto Butternut and Blue Cheese
Ingredients ( Yields 10)
375g risotto rice
200ml white wine
100g chopped shallot
2 chopped clove garlic
450ml vegetable stock
100g unsalted butter
Olive oil
75g diced blue cheese
75g dice roasted squash
150ml squash puree
75g grated parmesan (optional)
watercress picked
Method
Sweat shallots and garlic in butter until soft.
Add rice until transparent.
Add white wine and stir in.
Add stock a little at a time stirring constantly until all is absorbed and creamy. Add salt and pepper and a little olive oil.
Add the squash puree, squash puree and (optional) the parmesan.
Cook for a further minute and serve, top with diced blue cheese & watercress.
---