With the ever-growing core of restaurants in any town or city throughout the UK being Italian, there's no mistaking the popularity of this cuisine. Britain's love affair with Italian food and drink goes back for further than the famous Spaghetti Houses of the 1950s. 2,000 years ago the Roman Empire brought us olive oil and exotic vinegars, changing the history of British cooking for ever, and Sir Christopher Wren famously buried his Parmesan cheeses when the Great Fire of London took hold of the city in 1666.
We almost consider the word 'Italian' as our comfort food, every week thousands of portions of spaghetti bolognaise are served, we still love it. The great thing about Italy and its food is that it is noted for its regional diversity, with twenty regions of Italy and a range of geographical conditions together with the strength of local traditions gives a wide range of dishes.
The modern pizza was developed in Naples when tomato was added to freshly baked Focaccia in the late 18th Century the same city that came up with the lasagne, it only bore a slight resemblance to a lasagne as we in Britain know it today as the original recipe used fermented dough rolled into thin sheets. The traditional lasagne of Naples, Lasagne di Carnevale is layered with local sausage, small meatballs, hard boiled eggs, ricotta and mozzarella cheese with a sauce of Neapolitan ragu. I have to say I love it and its my go to meal when visiting Naples, the version mostly eaten in the country and we grow up with is Lasagne al Forno and is probably the most common Italian dish served outside of Italy.
To run along with our Italian Cuisine Week ( 20-26 November) we have put together a collection of Italian recipes that are big in flavour, exciting and in some ways different to the normality of Lasagne al forno, some simple, some a little more complex but all tasty and remember its more than just pizza and pasta.
Macaroni Cheese – Deep Fried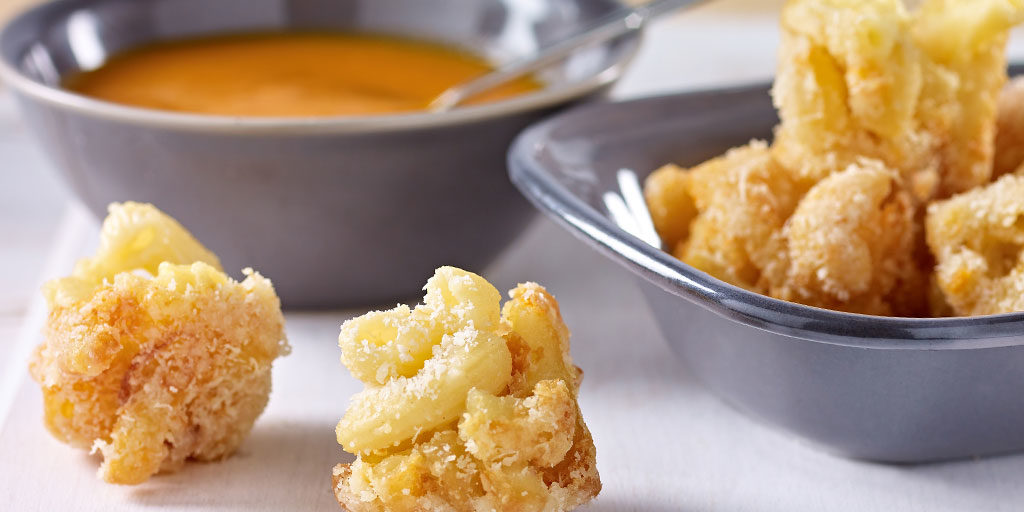 Ingredients
50g Macaroni – cooked
25 g Butter
30 g Flour
1x Eggs
1x Sage sprigs
25g Onion – diced (raw)
25g Gruyere cheese – grated
30g Lancs cheese – grated
1 pint water
Method
Boil together the water, onion, sage & butter in a pan, once boiled gradually add the flour, beating all the time & until all the flour is incorporated & the mix leaves the sides of the pan (as for choux pastry), beat the grated cheese into the mix.
Remove from the stove and place the mix on whisking machine, allow to cool.
When cool, gradually add the eggs 1 at a time until fully incorporated.
Gently fold the cooked macaroni through the cheese mix, spread out in a flat and chill in the fridge.
When completely cold & firm, cut out into circles with metal ring, pass through seasoned flour & deep fry until crispy & golden
Fusilli Pasta in a chicken and Arrabiata Sauce
Ingredients
Method
Cook the pasta in salted boiling water until cooked, drain and hold for service.
In a saucepan, heat the oil and add the chicken. Stir well and seal on all sides. Add the onions, peppers, chilli and paprika and cook for a further 2-3 minutes.
Add the tomato sauce, bring to a simmer and cook for 8-10 minutes until the chicken is cooked.
Serve the chicken with the pasta and parmesan
Italian Bean and Pasta Soup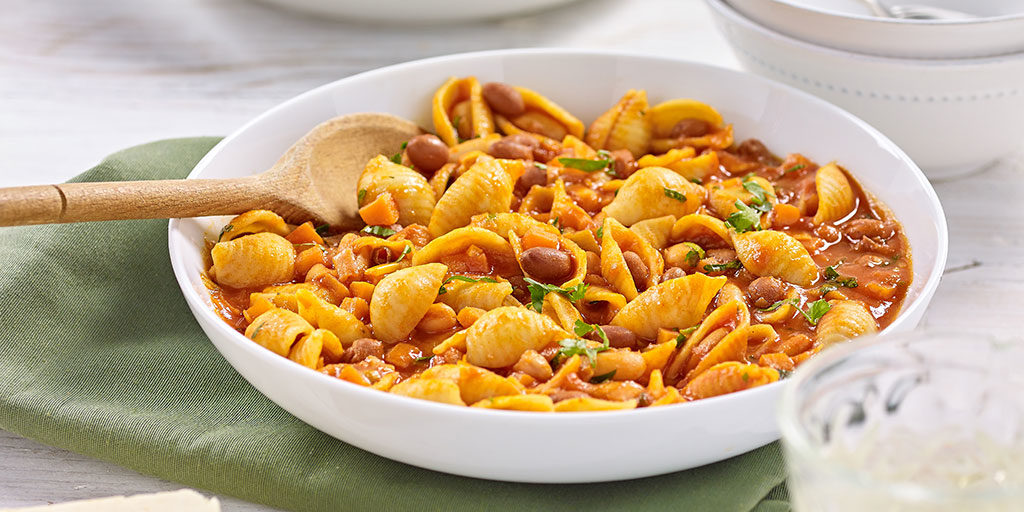 Ingredients
Method
Wash and clean the vegetables
In a thick bottom saucepan heat the oil, add the carrot, leek, garlic and sweat for 3-4 minutes
Add tomato puree to the vegetables
Make up the vegetable stock, whisk the hot water and bouillon together
Add the vegetable stock and simmer for 15 minutes, then add the pasta and beans and simmer for a further 10 minutes until the pasta is cooked
Add chopped parsley and serve
Italian Beef Ragu and Pasta Soup
Ingredients
Method
Dice onions, peppers, and aubergine
Heat oil in a suitable thick bottom saucepan, add mince and brown off for 2-3 minutes
Add diced onion, peppers and garlic and sweat for 2-3 minutes
Add aubergine and sweat for 2-3 minutes
Make up beef stock, whisk bouillon into the hot water
Add chopped tomatoes and tomato puree to saucepan, stir well, then add stock
Add pasta to saucepan. Stir regularly for 10-12 minutes
Stir in basil paste, cracked black pepper, salt and oregano
Decant into the recommended serving vessel and serve
Penne Served With Sundried Tomato, Artichokes and Red Pesto
Ingredients
80gm Penne
100ml Tomato and sauce
20gm Sundried tomatoes (cut in half)
30gm Grilled artichokes (sliced)
30gm Baby spinach
5gm Red pesto
Method
Cook the pasta in salted boiling water until cooked, drain then hold for service.
In a saucepan heat the tomato sauce with the pesto and bring to a simmer.
Add the artichokes, spinach and sundried tomatoes and stir well in the sauce.
Cook for 3-4 minutes then serve with the pasta.
---
Works Well With…