Considering introducing a vegan menu? The latest research by the Vegan Society reports that there are some 540,000 vegans in Britain – and the figure is rising.
In fact, the Plant Based News site suggests veganism in the UK will 'skyrocket by 327%' by 2020, with more and more people catching onto the benefits tied to the trend – that's not counting positive environmental and animal welfare factors.
It's believed going vegan can help with weight loss, lower blood sugar levels and improve kidney function, so is it any wonder it's becoming a popular choice? We're exploring veganism to discover how it can boost footfall in your venue.
Try Something New and Boost Footfall
Veganism is so popular that sales at Greggs have seen a huge boost in profits, with its vegan sausage roll being one of the company's five bestsellers. Meanwhile, fast food restaurant Leon has introduced its beetroot-based love burger to rave reviews. Now, the chain's sales are 55% vegan, as reported here.
The upshot of the fast-expanding trend is this: if you aren't yet offering vegan meals, perhaps you should think about the footfall it can bring to your eatery, as well as, of course, the environmental advantages.
If Greggs – a decades old, traditional bakery, can do it, so can you.
Roger Whiteside, the company's CEO, tells The Guardian: "We set out to get as much publicity as we could – don't get me wrong. But we soon found ourselves holding a tiger by the tail."
No Compromise on Texture or Taste
Daring Foods is just one company that understands the sheer power of veganism. Having launched in Glasgow, the start-up – headed up by co-founders, Eliott Kessas and Ross Mackay – currently supplies meatless to the foodservice industry and has a retail range upcoming. It also targets £7m in turnover by the end of 2019.
The brand's Business Development Manager, Cameron Mackay, says: "Did you know that 95% of vegans and vegetarians ate and enjoyed meat at one stage of their life? It wasn't the taste or texture that made them stop eating meat; it was for their health, the health of the environment or for the animals. So, at Daring, we decided to come up with a solution: meat made from plants with no compromise on texture or taste. It's better for your health, the planet's health and the animals too."
With that in mind, how can you introduce plant-friendly options to your restaurant, encouraging more vegans through the door and enticing meat eaters to try something new? Here are just a few suggestions…
Plant-based Poke Bowls
Meat-free meals don't always have to be centred around meat alternatives like plant-friendly sausages or burgers. Instead, make fruit and veg the star of the show, with plant-based poke bowls. What's a poke ball, you might ask?
Pronounced 'poh-keh', poke is a Hawaiian dish that's been around for centuries, with poke meaning 'to section' or 'to slice'. A traditional poke bowl is a a raw fish salad, but vegan chefs have brought a plant-focused slant to the meal with all manner of vegan versions, including sweet and savoury options. One Green Planet has some tips on adding some winning poke bowls to your repertoire.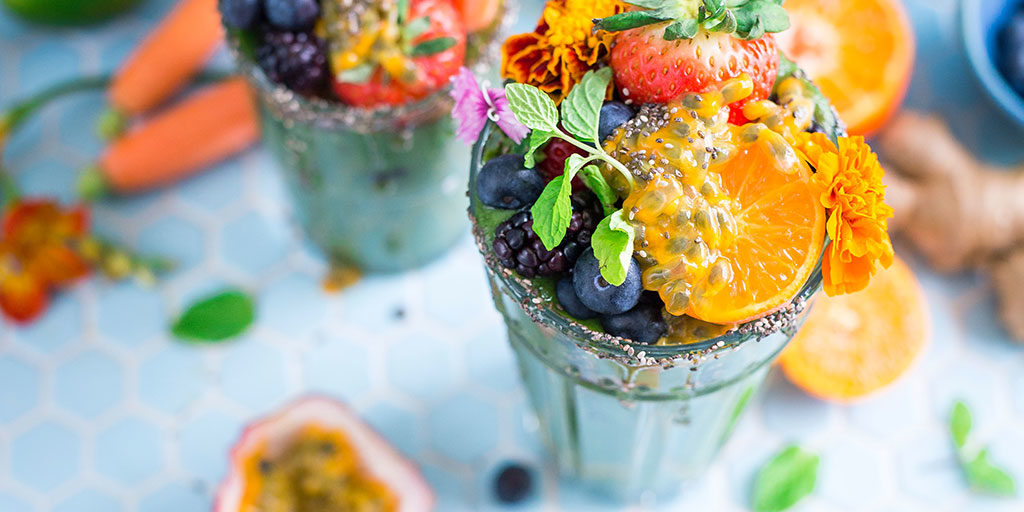 Insta-Worthy Meals with Added Flower Power
Edible flowers are still having something of a moment on social media – and in the 'real world', with a host of recipes available for chefs and bakers to try. Taking plant-based cooking to a whole new level, the trend for tucking into flowers gives caterers a chance to expand their menu and create 'Insta-worthy' dishes customers will be keen to share with their friends and followers.
Organic September highlighted edible flowers as a trend that's likely to take over restaurants, with everything from viola to lavender and pansies on the menu and UK restaurants including Carousel and Sketch both offering dishes which make use of this vegan-friendly favourite.
Superfruits Taking Centre Stage
The jackfruit is also revolutionising restaurants' vegan offerings, with the potential to be 'more than just a fashionable alternative to meat', says The Guardian.
Westerners mostly hail jackfruit for its ability to mimic pulled pork on tacos, or ham slices on a pizza, states the piece, with James Joseph, who is leading some jackfruit-based research, saying: "That would be a crime to do in India. This is a country with a massive protein deficiency. I realised that one cup of jackfruit has 40% less carbohydrate than a cup of rice, and four times the fibre."
Introduce a Vegan-Friendly Menu
Ready to introduce a vegan-friendly menu to your restaurant? You could start by tentatively dipping your toe into the trend with a vegan-friendly breakfast, or even a selection of bar snacks for customers who have gone meat-free. World Vegan Day is a great time to add some vegan dishes to your specials board; go on, give it a go.
Be open to trying something new and you may find you encourage brand new clientele to your venue.