From October 1st, Natasha's Law will come into force, requiring food businesses in Wales, England, and Northern Ireland to label all pre-packed food with a full ingredients list.
The law has been introduced to protect allergy sufferers and give them confidence in the food they buy.
What is 'Natasha's' Law?
In July 2016, 15-year-old Natasha Ednan-Laperouse suffered an anaphylactic reaction to sesame seeds baked into the dough of a baguette she had purchased from a well-known fast-food chain.
There was no mention of ingredients, or allergen information on the packaging and had there been, Natasha would still likely be with us today.
After her death, Natasha's parents, Tanya and Nadim, created the Natasha Allergy Research Foundation to aid further allergen research.
In September 2019, her parents successfully petitioned Natasha's Law in her legacy, to tighten the rules on food labelling for pre-packed for direct sale (PPDS) food.
How do I know if my business requires (PPDS) food labelling?
If the food you sell on your premises is made and packed on-site and then offered or sold to consumers, you must adhere to the new labelling requirements.
This can include food that consumers select themselves, from a fridge or display unit, or from behind a counter. Some mobile or temporary outlets may also be included.
The Food Standards Agency has created a tool to help businesses identify if they sell PPDS food.
Similarly, any food your business orders that's pre-packed, must already come with a full ingredients list and allergen information.
If your business does not sell pre-packaged foods then you do not need to change anything about your allergy labelling process.
What about takeaway food?
If you sell food 'at distance', for example takeaway items that are ordered over the phone or internet, PPDS food labelling does not apply.
However, businesses will need to ensure that mandatory allergen information is available to the consumers when they purchase the product or at the moment of delivery.
Before purchase, allergen and ingredient information should be shared on either the website, catalogue or menu of the business.
At time of delivery, allergen information must be shown with either stickers on the food or a copy of the menu containing the allergen information should be enclosed.
I have PPDS Food, what do I need to do?
From October 1st, food businesses must adhere to the new labelling requirements set out by the Food Standards Agency for pre-packed for direct sale (PPDS) food.
Any business that produces PPDS food will be required to label every individual product with the name of the food and the ingredients list with allergens emphasised.
The 14 allergens required to be declared by law are:
Celery
Cereals containing gluten
Crustaceans
Eggs
Fish
Lupin
Milk
Molluscs
Mustard
Peanuts
Sesame
Soybeans
Sulphur dioxide and sulphites
Tree nuts
Further allergen information can be found here
Natasha's law is more than a new labelling format, it's a legacy to a girl who lost her life too young. The number of people with allergies in the UK is rising, with one in four people allergic to one of the 14 main allergens.
Emma Clifford, Associate Director of Food and Drink at Mintel, said: "Given the perceived lack of clarity and the dangerous health implications that ambiguous allergen labelling can have on consumers, there is a real need for companies to make the presence of allergens very obvious on labelling."
Further information can be found on the Food Standards Agency or Government website.
How we can help
Creating a label, listing every ingredient and allergen for each pre-packaged item can be a daunting task. With the help of Erudus One, we have an easy-to-use solution we are delighted to offer FREE to our customers.
Erudus One provides caterers with comprehensive nutritional breakdowns, dietary advice and allergen information on over 20,000 products that caterers purchase through one data source.
Here's a quick overview:
View and download product specifications for over 45,000 products in the Erudus data pool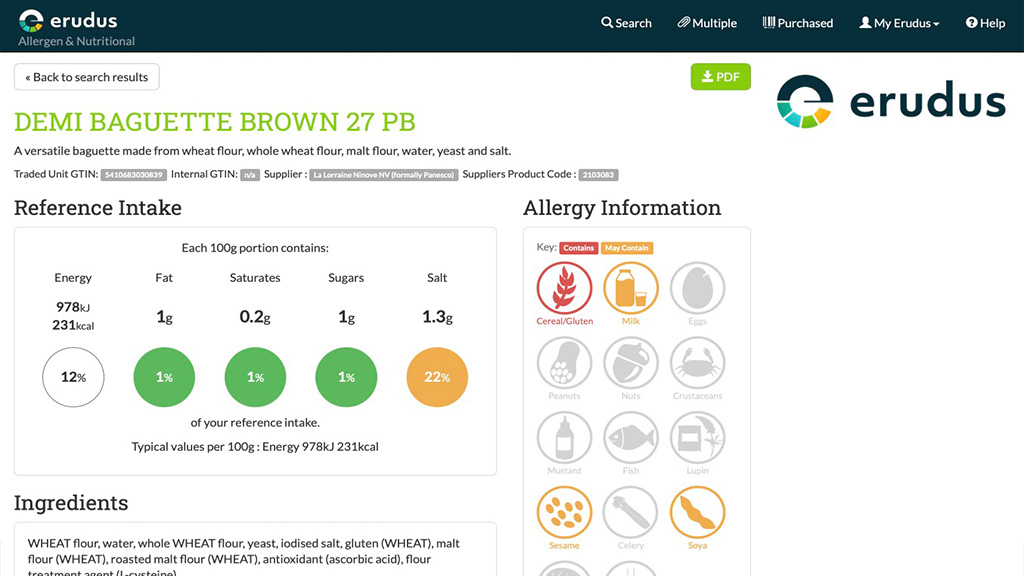 Get access to all of the legally required allergen and nutritional information for the ingredients you use
Build recipe specifications that will work out the allergen & nutritional information, method of preparation and costing of the recipe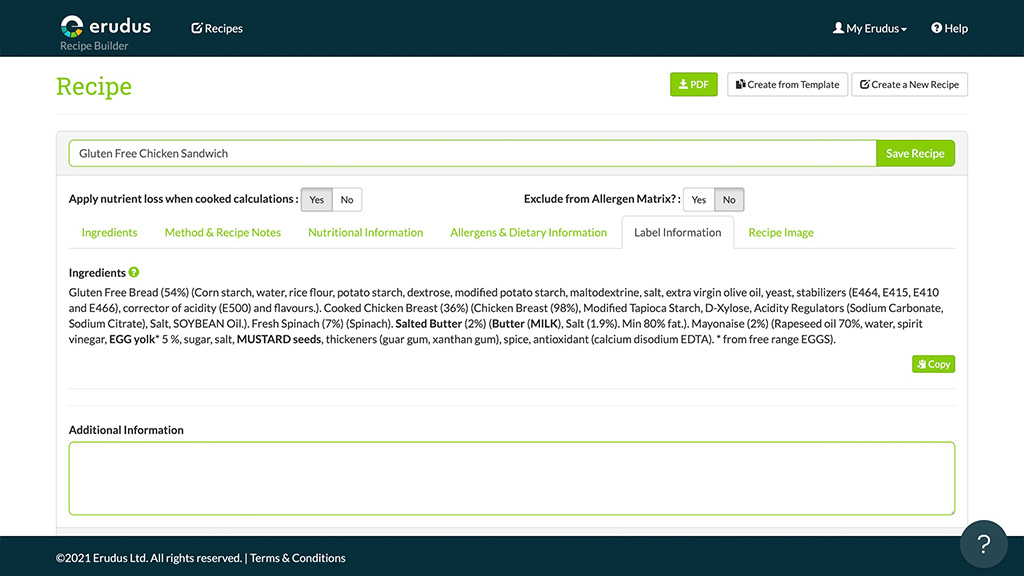 Generate an ingredients declaration for a recipe and copy it to your label printing software to label up any PPDS that you make
All your recipes are saved in one place and easily edited if you change an ingredient
Generate an allergen matrix for all of your saved recipes at the click of a button